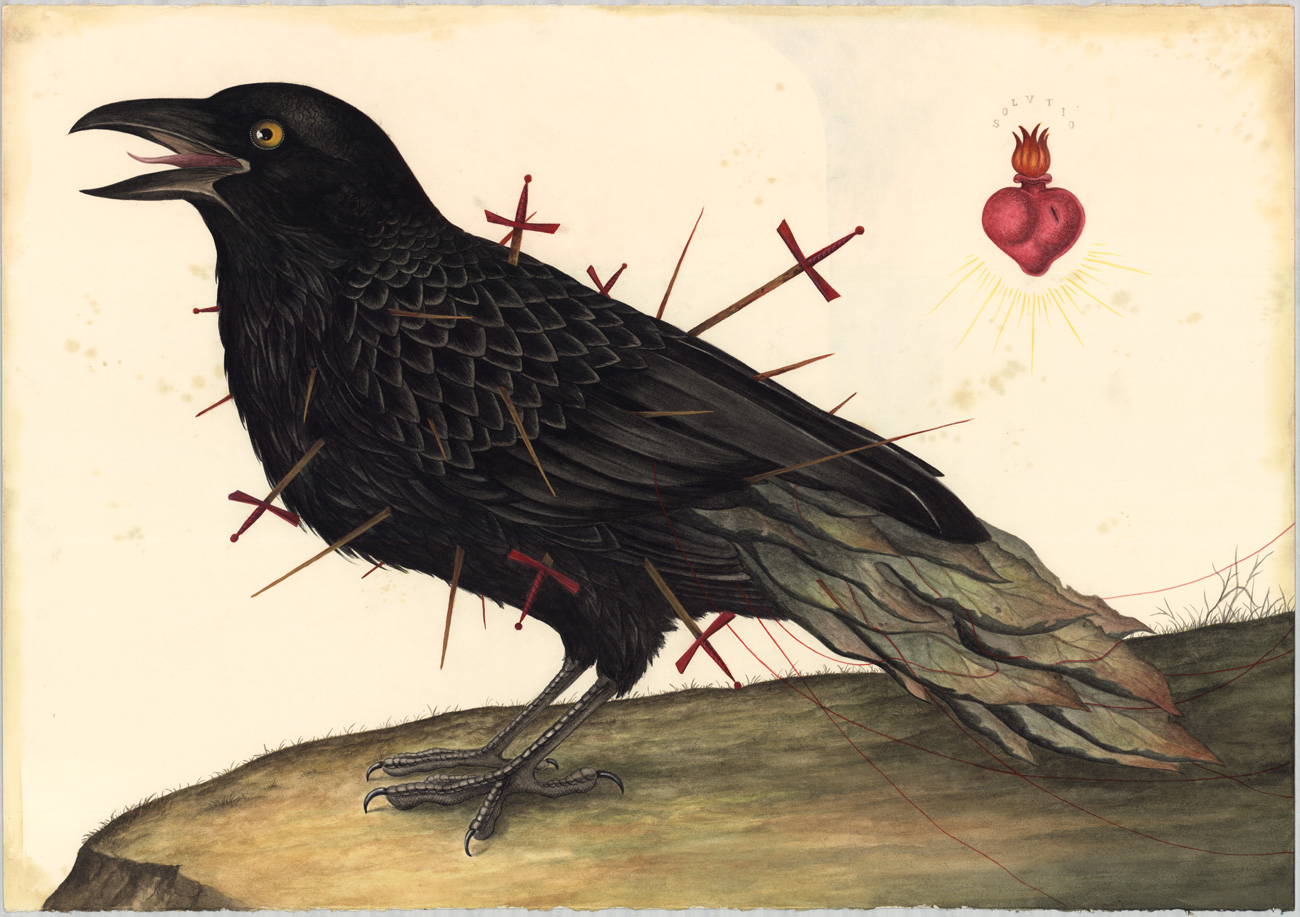 El Gato Chimney "My Black Heart" 2014 100 x 71cm Watercolor and pencil on cotton paper
El Gato Chimney
DE RERUM NATURA

March 5th - April 30 2015
opening reception March 7th 2015 6 - 9 pm
An illutstrated catalog will be available with essays by
Martin Wittfooth, Pamela Grossman and Michela D'Acquisto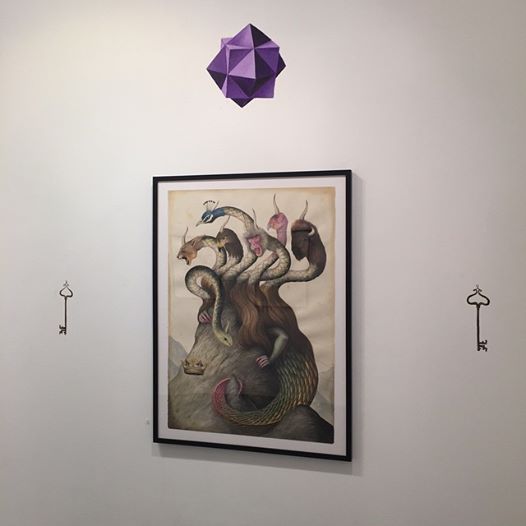 featured press for the exhibition:
"In De Rerum Natura the medium between the terrestrial and the celestial is depicted as a bird, an animal that goes between both planes of reality at will. Upon the backs of many of these birds is a community of houses, perhaps signifying the unsteadiness of life and how one's shelter can abruptly change, or that one can take their sense of shelter wherever they go. Home is where the heart is, as it is said. But one will notice that this sense of security is challenged by the presence of fire. Fire is a significant alchemical symbol, generally represented as one's will. Fire is also representative of transformation, as fire turns form, representing the terrestrial, into smoke, the celestial."
Divine Decadence, Beautiful Bizare 2015
"One of the most compelling aspects of Chimney's symbol-filled imagery is the apparent moral ambiguity. The creatures inhabiting the vast, melancholic landscapes are unclear in their intentions, with their strange, chimerical bodies appearing both gentle and wicked. Many of them are preparing for abstract duals with one another, the reasons for which remain unknown. "
Haley Evan, Beautiful Decay Magazine 2015
"Following the steps of famous storytellers, El Gato Chimney uses animals, made-up or real, often hiding behind masks and always wearing ceremonial clothes from European folklore and Oceanic tribes cultures, to depict the vices and the virtues of the world around him. The universe he portrays is dual and deceptive, like a good horror story. The animals are drawn in vivid colors, but the details on them, the colourful clothes and masks that adorn these mysterious characters,  act as a kind of warning, making them look likeable and scary at the same time. A magical and religious syncretism is what livens up the inhabitants of these lands, a well-turned mixture of cultures and eras, as the artist wants to assert that celebrating life and escaping death is what joins all beings."
Neda K WIDEWALLS Magazine 2015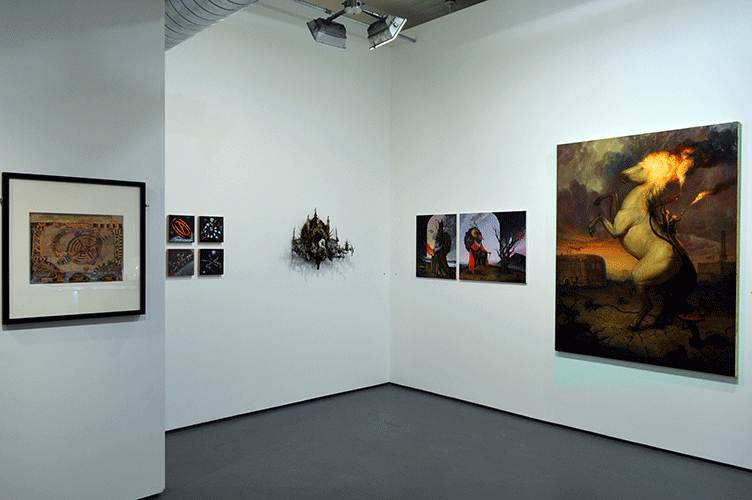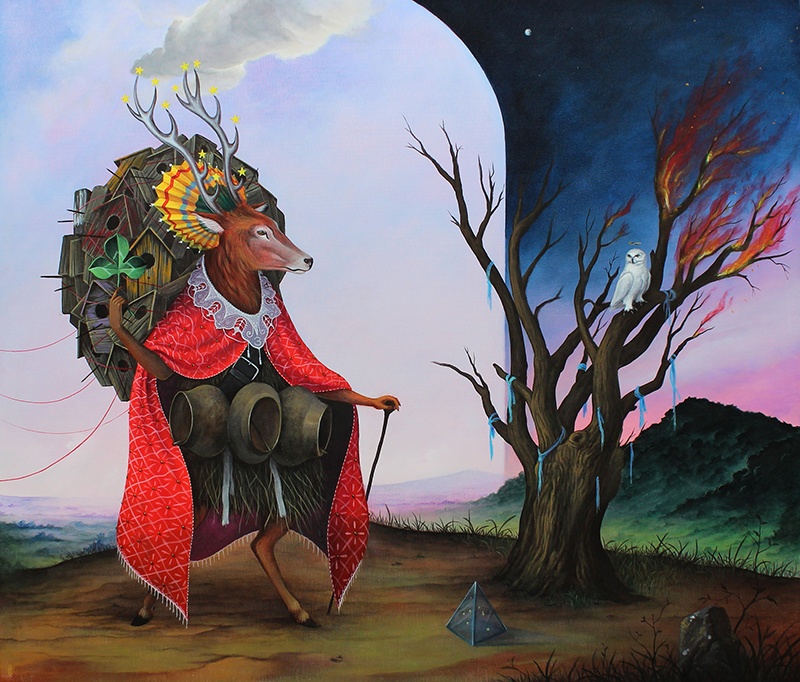 El Gato Chimney "The Catcher" 2014 Private Collection
works by Charles Dellschau, anonymous 1950's space paintings, Kris Kuksi, El Gato Chimney and Martin Wittfooth in Stephen Romano Gallery's
"Mysterium Cosmographicum" June 3 - August 30 2014.
El Gato Chimney is featured in "In Missa Interfectionis"
a group exhibition on the theme of The Dance of Death, hexes, voodoo, curses and witchcraft at Stephen Romano Gallery October 15 - April 30 2015
| | |
| --- | --- |
| Lost In Thought 2014 Private Collection | AURORA 2014 Private Collection |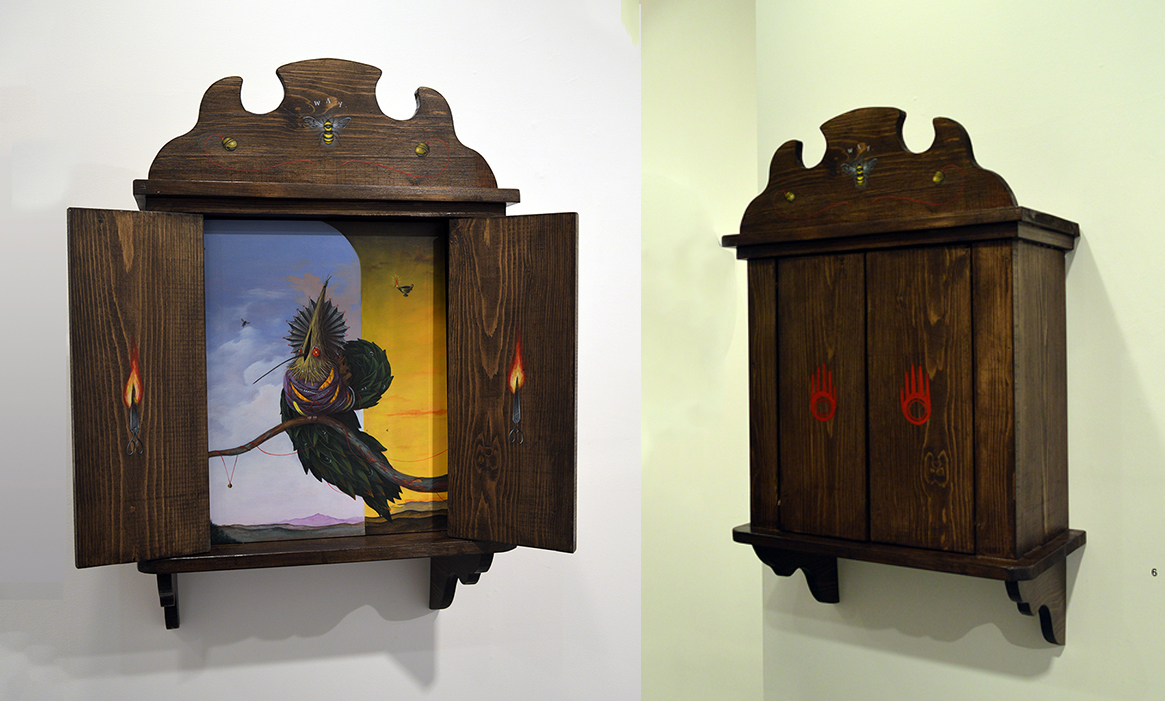 El Gato Chimney "The Ancestor" 2013 acrylic on canvas w painted wooden cabinet 40h x 11 deep x 23 wide (closed) Private Collection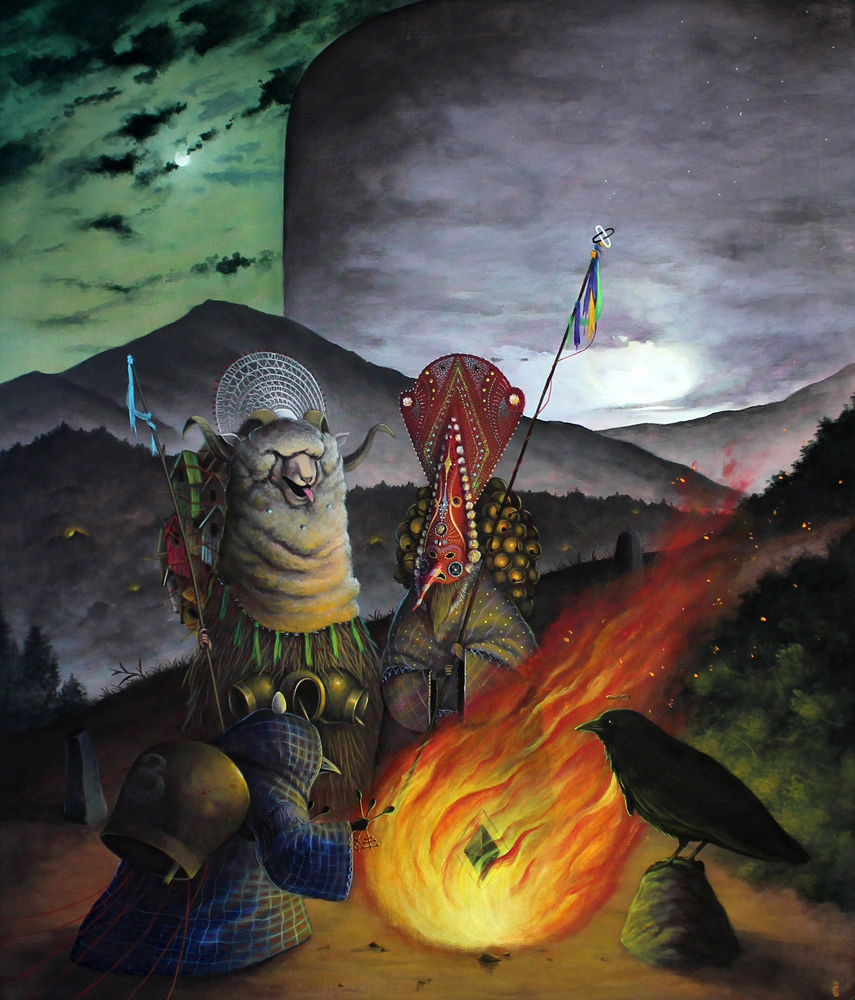 The Assembly Of 24th June 70 x 60cm acrylic on canvas 2014 Private Collection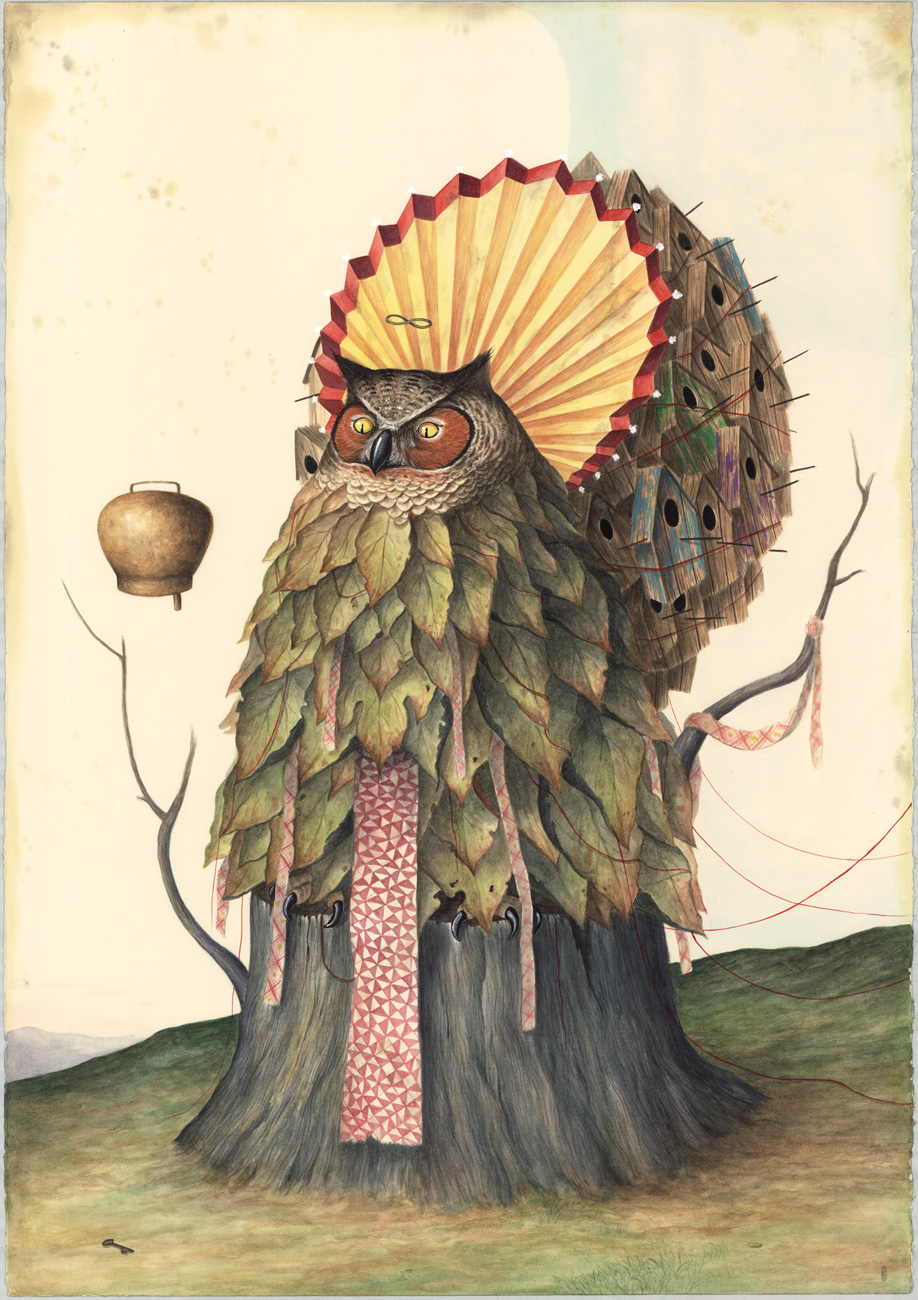 El Gato Chimney "Inside The Circle" 2014, 100 x 71cm Watercolor on cotton paper Private Collection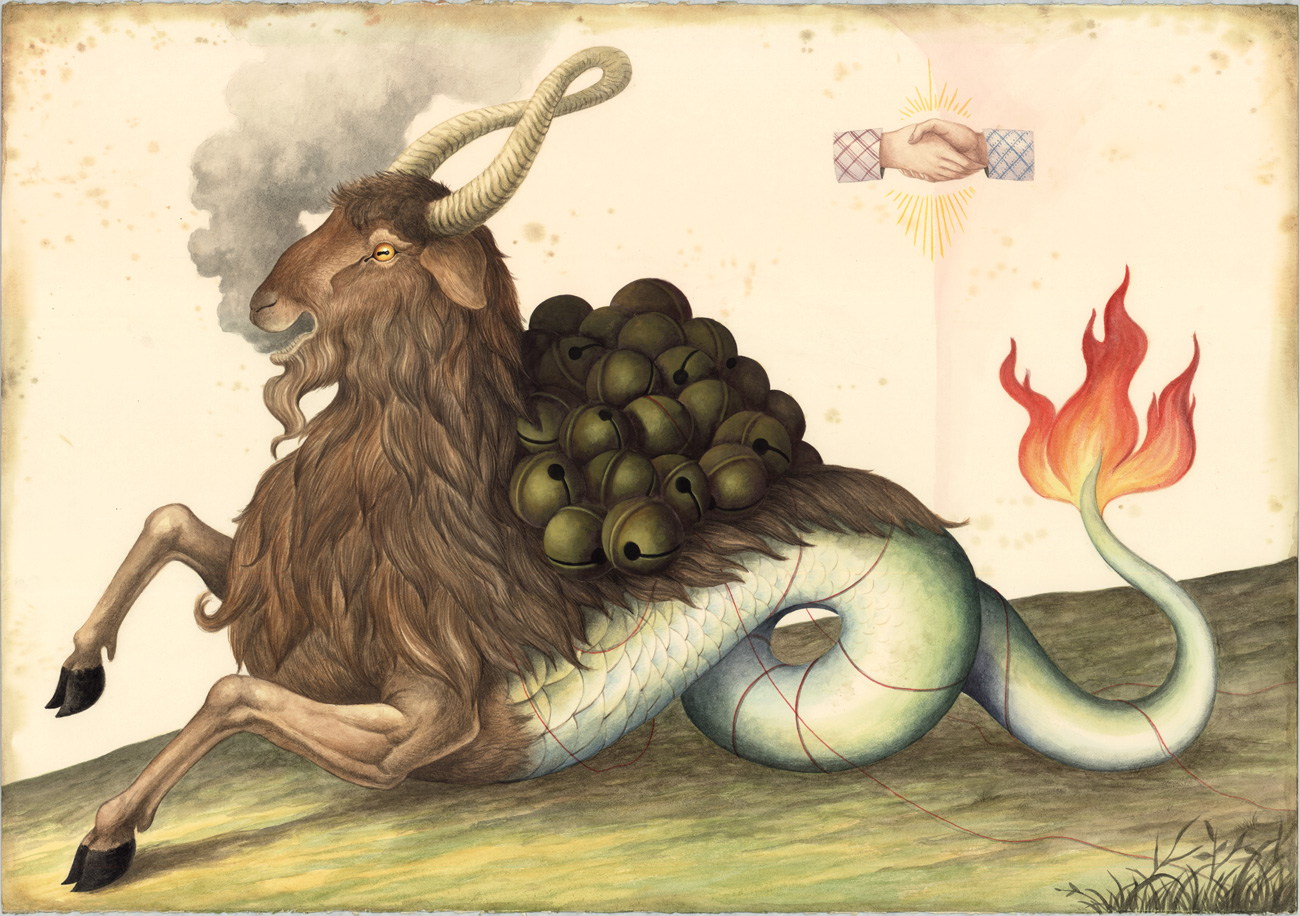 El Gato Chimney "Secret Pacts" 2014, 100 x 71cm, Watercolor and pencil on cotton paper